Dear friends - 2020 was quite the tumultuous year, for all the reasons you already know. We can only hope you remained safe and healthy, and that we are all heading into a much better year for us all... and a return to live music performances. In the theremin world,...
read more
---
About the Foundation:
Founded in 2004, the Nadia Reisenberg/Clara Rockmore Foundation was created to honor the achievements and enhance the legacies of these two extraordinary sisters, the eminent pianist and teacher Nadia Reisenberg, and Clara Rockmore, unquestionably the world's greatest virtuoso of the theremin.
---
If you have remembrances of
Nadia or Clara, or comments about this website, please email us!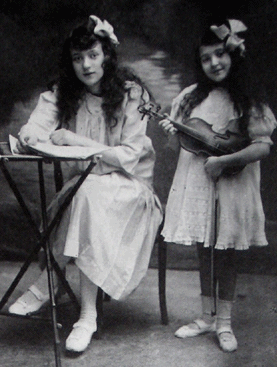 ---
To make a contribution, or request other information, contact:
Robert Sherman
5 Tavano Road
Ossining, NY 10562
Telephone: (914) 762-6282
Email: rsher762@aol.com
Permissions and Clearances:
Steve J. Sherman is now handling clearances and permissions for all Clara Rockmore materials.
Email requests to him directly: stevejsherman11@gmail.com
Clara Rockmore




She played so beautifully the violin then as she plays the theremin now…I wish she could teach all the young musicians who are learning to make music, because they should learn from her what it means to play a phrase from the heart…Like Nadia, Clara is fantastic.
– Alexander Schneider, 1989