It's almost a year old now, but I do want to remind you of Gary Lemco's long and highly detailed review, which begins "Nadia Reisenberg's 1950's Haydn program receives new and astonishingly clear gloss from Roméo Records." Within it we read that "Each of the sets of variations demonstrates both the composer's inventive spontaneity and Reisenberg's deft arsenal of keyboard technique: sturdily aggressive, focused, and eminently clear in architectural delivery." Gary examines most of the variations and each of thee sonatas in turn, offering similarly extravagant praise, and ending by saying that "Reisenberg invests the finale (of the Sonata #60) with mirth, music-box clarity, and eminently polished elan." Gary Lemco has also devoted one of his Los Angeles radio programs to this and other NR performances.
read more
---
About the Foundation:
Founded in 2004, the Nadia Reisenberg/Clara Rockmore Foundation was created to honor the achievements and enhance the legacies of these two extraordinary sisters, the eminent pianist and teacher Nadia Reisenberg, and Clara Rockmore, unquestionably the world's greatest virtuoso of the theremin.
---
If you have remembrances of
Nadia or Clara, or comments about this website, please email us!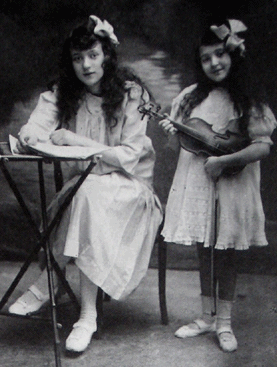 ---
To make a contribution, or request other information, contact:
Robert Sherman
5 Tavano Road
Ossining, NY 10562
Telephone: (914) 762-6282
Email: rsher762@aol.com
Permissions and Clearances:
Steve J. Sherman is now handling clearances and permissions for all Clara Rockmore materials.
Email requests to him directly: stevejsherman11@gmail.com
Clara Rockmore




She played so beautifully the violin then as she plays the theremin now…I wish she could teach all the young musicians who are learning to make music, because they should learn from her what it means to play a phrase from the heart…Like Nadia, Clara is fantastic.
– Alexander Schneider, 1989