Clara Rockmore Biography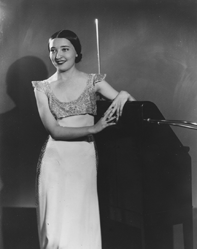 Clara (Reisenberg) Rockmore holds a unique place in music history as the star performer of the theremin. Born in Russia, March 9, 1911, Clara inherited the family trait of perfect pitch and could pick out melodies on the piano at age two. At four, she was accepted as the youngest ever violin student at the St. Petersburg Imperial Conservatory (still so tiny that she played her audition standing on a table), and a year later, she became a prized pupil of Leopold Auer. As conditions deteriorated after the Revolution, the Reisenberg family left Russia, traveling all night on a horse-drawn wagon. "It was a long journey," her pianist-sister Nadia recalled many years later. "We had to cross many borders illegally, and we traveled without knowing whether or not we would ever reach a country from which we could get a visa to the U.S." Meanwhile Clara and Nadia gave concerts along the way, earning enough to keep them going until at last, in 1921, the family was able to book passage (steerage) on a steamship bound for America. Thanks to Barry Moreno, of the Elllis Island Immigration Museum, we know that family arrived in New York Harbor 19 December, 1921, and was questioned in the Great Hall the next day.
In New York, Clara resumed her studies with Leopold Auer, but shortly before she was to make her American debut (playing the Beethoven Concerto with the Curtis Orchestra), she developed an arthritic problem with her bow arm, and had to give up the violin. Fortunately, she had met Leon Theremin (an Americanization of Lev Termen, as he was known in Russia), the inventor of the world's first electronic instrument. "I was fascinated by the aesthetic part of it, the visual beauty, the idea of playing in the air," Clara recalled, "and I loved the sound. I tried it, and apparently showed some kind of immediate ability to manipulate it. Soon Lev Sergeyevich gave me, for a present, the RCA model theremin."
That was the start of a new life and career for Clara. She soon developed her own finger technique, allowing her infinitely greater control of pitch and phrasing, and a few years later she played Bloch's "Schelomo" with the Philadelphia Orchestra. Although Theremin proposed to her, Clara married attorney Robert Rockmore, and thereafter used his name professionally.
Meanwhile, she convinced Theremin to build her a far more precise and responsive instrument than the RCA model, one with a five-octave range, instead of three. Interestingly, when the renowned pianist Josef Hofmann (who was also an inventor with a number of notable patents) heard Clara play at a recital in Maine, he became intensely interested in the instrument, and suggested a number of modifications, including a lower profile so the player's hands would be more visible. These were incorporated in the new instrument.
With the added flexibility of this specially built theremin, Clara gave a Town Hall recital with her sister Nadia (at which they played the Franck Sonata, no less), and made subsequent orchestral appearances in Philadelphia, Toronto and New York, where she premiered a concerto written for her by Anis Fuliehan, under the direction of Leopold Stokowski. ("That girl could make music out of a kitchen stove," the Maestro said). Clara also went on three coast-to-coast joint concert tours with Paul Robeson.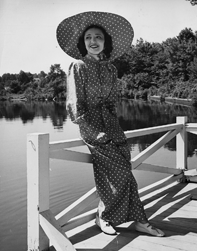 1977 marked the release of Clara Rockmore's first commercial LP, performances with Nadia Reisenberg (recorded by Robert Moog) titled "The Art of the Theremin"; these were reissued on a Delos CD ten years later. Sixteen additional pieces, taped at those same sessions — Clara always called it her "Lost Album" — were posthumously issued on CD by Bridge Records in 2006.
In 1991, Steve M. Martin, long fascinated by the instrument, embarked upon the documentary "Theremin — An Electronic Odyssey," a film including some of Clara's last public performances (videotaped at a 1993 Nadia Reisenberg tribute concert in Merkin Hall), and the New York reunion of Clara and Leon Theremin (then aged 96). Premiered in New York at Alice Tully Hall — with Clara getting a cheering ovation when she came on stage following the screening — the film in large measure revitalized interest in both the theremin itself and Clara Rockmore's unique accomplishments.
In 1997, Clara fought off pneumonia and a severe heart attack, and while her health continued to deteriorate, she announced her determination to live to see the birth of her grand-niece, the baby of music photographer Steve J. Sherman and his wife, cellist Dorothy Lawson. Fiona Nadia Sherman arrived May 8, 1998; Clara passed away in her Manhattan apartment two days later.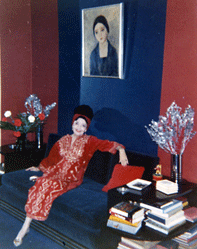 Of the many glowing reviews she received during her remarkable career, perhaps the one she treasured most came from Leon Theremin himself. "Clarionek," he wrote to her, "you played like an angel."
Adapted from Dr. Anne K. Gray's "The World of Women in Classical Music"

P.S. FROM NADIA (7/14/78)
I'm very fortunate in having the wonderful Clara Rockmore as my sister, and it's a joy to perform with her. I forget about what instrument she plays, and in any case, it wouldn't make any difference to the way we work together. She is a consummate musician, with impeccable taste, so we could attain wonderful ensemble almost without rehearsing. We also loved each other, which probably had something to do with it…