Posted by Bob Sherman, March 2016
Happy Birthday Clara!
March 9th, the 105th anniversary of Clara Rockmore's birth, is being celebrated by Google with a Google Doodle tribute to Clara – you will be able to play the theremin and if you follow through, Clara herself will end the session playing St. Saens' "The Swan" with sister Nadia, taken from the Delos CD "The Art of The Theremin."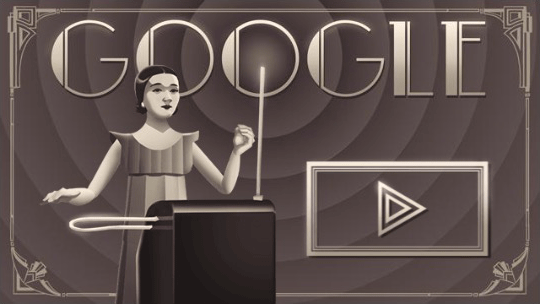 Google states that the goal of the Doodle is "to delight users, teach them something new, and honor a truly inspirational person who changed history." That last certainly fits Clara to the proverbial "T" (for theremin, of course), and we are deeply gratified at this signal recognition.
• NEW CD – Viola and Piano Sonatas with Paul Doktor.
The exciting news on the Nadia Reisenberg (i.e. my mother's) front is that another new Roméo Records CD materialized a few months ago, devoted to sonatas with the esteemed violist Paul Doktor. It's quite a roster, too: both Brahms masterworks are here, re-mastered from the Westminster LPs; the rarely encountered Sonata by Karl Weigl, taken from an even earlier LP on the long defunct Triad label; and rescued from a 1963 concert performance at the Mannes College of Music, the wonderful Opus 11, #4 of Paul Hindemith. The notes include archival photos of both artists, along with comments by students and colleagues (among them the renowned violist Paul Neubauer).
The first published review of the new CD (in Fanfare Magazine) is like most earlier commentaries on Nadia Reisenberg reissues—a rave—so I trust critic James H. North will forgive my quoting a few hunks from it here:
"(Her) performances with Paul Doktor are almost paradoxical: eminently sensible and yet warmly passionate, true to the score and true to the music. It is a rare combination. The first time you listen to these performances, you respect and admire them. On second hearing, you love them; by the third, no others will do. They disarm critical faculties; one cannot explain why they are so wonderful.
"The Hindemith performance … has life and spirit beyond any other. There are phrases at previously unheard—unimagined—tempos, which these daring artists make work. I hope that all who play and record the Hindemith Sonata will hear this disc and learn from it."
It is actually that hope—that younger generation pianists will find much to admire and to emulate in Mother's natural phrasing, beautiful tone and unfailing musicality—that has prompted the release of this and all other Reisenberg albums.
What's up next? Not sure. On my wish list: a reissue of the now almost-impossible-to-find two-CD set of Haydn Sonatas and Variations, originally Westminster LPs, later on Ivory Classics; a whole group of private, never-before-issued performances, including the Beethoven Piano Quartet and the Dvorak Quintet, with members of the Budapest and Galimir String Quartets, respectively; and home recordings of solo pieces by Mozart, Liszt, Glazunov and more. Which would you most like to have us put out on high-quality CD? Let me know (rsher762@aol.com).
• New Names – The Student Roster Continues to Expand.
The list of Nadia Reisenberg's students is extensive, but hardly complete, so it's always a special delight when new alumni (alumnae?) sign in.
"I had the privilege and honor of studying with Miss Reisenberg for six years at Mannes and Juilliard," recalls Susan Cohen (a.k.a. Susan Joyce). "She was very motherly and was always so encouraging. When I had a great lesson, I was on 'cloud 9' for the rest of the day. I learned so much from her (shaping phrases, pedal technique, just to name two). She was a true gem!"
"I studied with your mother from 1968 to 1970," wrote Rita (Southworth) Moerschel. "I was overwhelmed with Miss Reisenberg's teaching, her playing, and her wonderful warmth. It was a very special experience for me. I so enjoy the many recordings of her playing and the book about her, and share this all with my family and musical friends." Rita also alerted me to yet another thus-far- unlisted student: "Robin Chadwick was there when I was," she added. "I think she was/is from Michigan."
• New Clara Rockmore and Theremin News.
Interest in the theremin—and perforce the unique artistry of Clara Rockmore—continues to mushroom. Quite aside from students looking to incorporate Clara's music and imagery within thesis projects and films, we've received requests for photos and sound clips for major theremin exhibitions at Fundación Telefónica in Madrid (Spain), and the National Music Centre in Calgary (Canada).
A multiple-page article about Clara, including archival photos of her and her husband, Robert Rockmore, appeared in the October, 2015 issue of the "high-gloss" Polish magazine "Zwierciadlo," part of the Zwierciadlo Foundation, devoted to "promoting and initiating cultural and artistic activities of unique quality." I'd tell you more about the article, except that I can't read Polish.
Brazilian filmmaker Izabel Jaguaribe is making a documentary about her father, Helio Jaguaribe, the great Latin American intellectual, author, teacher, political philosopher, and gentleman revolutionary. Tentatively titled " Música, Filosofia e Vinho" (Music, Philosophy and Wine), the film will include two short selections from Clara and Nadia's repertory, Saint-Säens The Swan and Tchaikovsky's Sérénade mélancolique. We are all delighted by this creative pairing, and can't wait to see the film, which should be released later this year.
The featured Clara Rockmore display including photos, sound clips, a video, and her original RCA theremin, continues at the Musical Instrument Museum in Phoenix, Arizona.
On a related note, my son Steve J. Sherman (check out his remarkable photo website at stevejsherman.com) is now handling clearances and permissions and clearances for all Clara Rockmore materials, so please address any such requests to him directly at sjsherman@earthlink.net
As always, your comments and questions are welcome, as are (tax deductible) donations to the Nadia Reisenberg-Clara Rockmore Foundation, which, of course, is dedicated to keeping alive and growing the legacies of these two remarkable sisters.